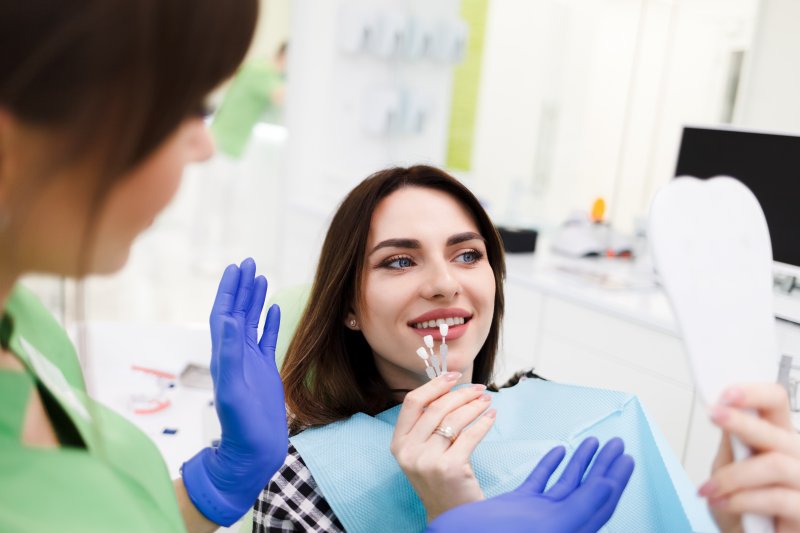 When it comes to restoring broken teeth, dentists tend to offer various treatment options. In particular, two of the best ones are dental veneers and crowns. Either one could improve the look and function of your smile! However, they have key differences that affect their results. Therefore, you may be wondering which to choose: veneers or crowns? To help you make that decision, here's a summary of each procedure's benefits and how to find the one preferable for you.
The Benefits of Veneers
Veneers are thin porcelain layers cemented to the front surface of teeth. Most patients use them to hide various smile flaws.
The strengths of veneers are that they're customized, durable, and long-lasting. Because they match your natural tooth enamel, they blend seamlessly with surrounding teeth. Furthermore, their resistance to staining and decay allows them to last around fifteen years with proper care.
This treatment is ideal for patients looking to boost the appearance of their smiles.
The Benefits of Crowns
A dental crown is a sort of cover or "cap" that can cover a damaged tooth. In doing so, it restores said tooth to its normal shape, size and function.
Crowns are especially good at protecting pearly whites from decay and infection. At the same time, they can deliver a significant change in the color and shape of an existing tooth.
Given their features, crowns are well-suited for teeth that have suffered breaks, cracks, or fractures. Dentists also recommend them to those who need dental implants or root canal therapy.
Which One is Preferable?
Review what you want from your restoration treatment to know which procedure would meet your needs. After all, veneers and crowns work best for different situations.
Porcelain veneers mainly solve cosmetic issues. As such, they aren't very good for back teeth; crowns are preferable in those cases. That also means you normally can't cover veneers' costs through your dental insurance.
Meanwhile, crowns have more restorative uses and can work on any tooth. Whether at the front or back of your mouth, they can protect damaged teeth from plaque and infection. That being the case, they're covered by most dental insurance plans.
Ultimately, both veneers and crowns can be helpful for dental repair. That said, feel free to talk to your dentist about other ways they can benefit your smile.
About the Author
Dr. George A. Hoop is a dentist and periodontist in Naples, FL. With over thirty years of experience in dentistry, he has improved countless patients' smiles for the better. He continues to do so now by offering preventive, cosmetic, and restorative dental treatments. Whether you need veneers, crowns, or teeth cleaning, his skills make him ready for the job. Dr. Hoop currently practices at Total Dental Solutions and can be reached at his website or by phone at (239)-939-7299.